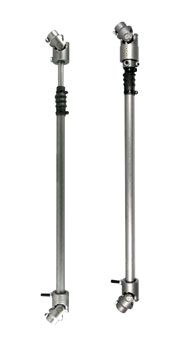 If you have tried replacing the worn-out steering on your Ford, you've probably found that many OEM replacement steering assemblies are no longer available.
Borgeson manufactures heavy duty bolt-in replacement assemblies for most model years of Ford pickups and Broncos. Borgeson incorporates a telescoping shaft that adds a measure of safety to the steering system. Ford has had many length variations over the years and sometimes within model years.
Borgeson has accommodated this by making an assembly which can be trimmed down to get the exact fit for your application. This added length will also accommodate aftermarket body lifts. Borgeson also offers an upgrade to our standard assembly that incorporates a vibration reducer that greatly reduces the road shock felt through the steering wheel.
1966–1977 Bronco Manual Steering Box
Borgeson re-manufactured manual steering boxes are assembled to the same demanding standards as our precision u-joints, far surpassing the OEM standards.
1966–1977 Bronco Power Steering Box & Components
Borgeson offers an integral power steering conversion for your 1966-1977 Bronco. The Borgeson conversion box is a re-manufactured modern integral power steering gearbox. Borgeson has re-manufactured this box to bolt directly to the factory mounting location and to fit the stock Pitman arm. A new universal joint will be required for connection to the stock column and a new hose kit for connection to the pump of your choice. Complete kits are available for the most popular applications.