Dodge Full Size Truck Shafts
Full size Dodge Pickups and Ramchargers have a type of steering coupler that has shown signs of wear in as little as 4000 miles, depending on how the truck is used. This wear causes play in the truck's steering. It's even more noticeable if your truck is used for plowing, towing or if oversized tires have been installed. Replacing the worn steering shaft with another OEM shaft only gives you a temporary fix. The Borgeson steering shaft assembly replaces the loose OEM parts with precision needle bearing u-joints and a telescopic shaft.
Borgeson Dodge Box
Borgeson has adapted a modern remanufactured Delphi 680 series integral power steering gearbox to replace the early 60's Saginaw technology used in your 1994–2008 Dodge pick-up. The Borgeson "Dodge Box" offers a larger piston diameter for more available power assist; quicker ratio for easier parking and less turns lock to lock and a modern variable valve that allows for stable highway driving and effortless parking and maneuvering. The 2003-2008 Dodge Box includes a replacement Pitman arm and is not compatible with lifted vehicles requiring an aftermarket Pitman arm.
Borgeson Dodge Ram Steering Upgrade Kits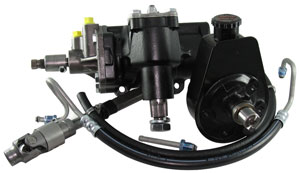 Borgeson now offers complete power steering upgrade kits for the 1994-2002 Dodge 2500/3500 Cummins Turbo Diesel trucks. These kits include the Borgeson Dodge Box power steering box, Borgeson Hi-Flow power steering pump and new OEM style power steering hoses with new Hydro-Boost brake hoses if applicable. Kits are available with or without the Borgeson Heavy Duty Steering Shaft.