Modern Power Steering Conversion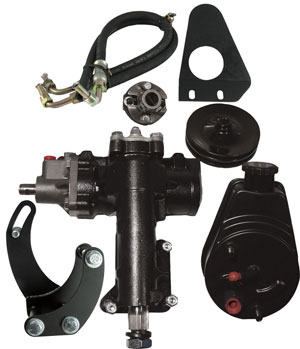 Borgeson offers an integral power steering conversion for your 1955-1957 Chevy. The Borgeson conversion box is a remanufactured GM Delphi 600 integral power steering gearbox. The Delphi 600 represents the latest generation of integral power steering gearbox technology with true modern power steering feel, feedback and a sporty 12.7:1 ratio. Borgeson has remanufactured this box to bolt directly to the factory mounting location and to fit the stock Pitman arm. Conversion requires shortening the stock steering column, but a new shaft is available.
Cars with factory power steering will require drag link adapter #990001 or manual steering linkage.
Steering Column Modifications
Floor Shift cars with stock column – You will need to trim the outer column tube back to the firewall. Replacement steering column shaft #990008 can then be used with rag joint #055034 to connect to the conversion box.
Column Shift cars with stock column – Will require extensive modifications and sectioning. We have available pre shortened stock columns for the 55-56 and 57 cars. Shortened stock columns require rag joint #055049 to connect to the conversion box.
Aftermarket columns – The available direct replacement aftermarket columns are the proper length to use with our box and will connect with either rag joint #055034 or 055052 depending on the column shaft. Direct Replacement Columns Available.
Manual Steering Boxes
Borgeson offers quality re-manufactured manual steering boxes for your Tri-5 in two different ratios both available in either original long input or short input styles for use with aftermarket columns.