Modern Power Steering Conversion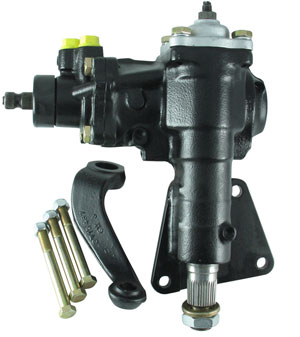 Borgeson has developed an integral power steering conversion box for the 1952-1964 Ford full size cars. This box bolts directly to the factory mounting location and connects to the stock manual steering linkage with the included Pitman arm. The steering column will need to be shortened for installation of this conversion box.
Cars with factory Bendix style power steering will require either manual steering linkage or a drag link adapter.
Steering Column Modifications
1952-1957 & All Column Shift cars – A steel coupler #312500 must be welded to a cut off inner column shaft. The outer column tube will be able to fit over the coupler allowing enough column tube to mount the shift linkage.
1958-1964 Floor Shift applications – We recommend the use of a rag joint #052549. The cut off column shaft will need to be ground into a DD profile to connect to the rag joint.
This conversion box fits the following Ford full size models:
1952-1956 Crestline, Customline, Mainline
1957-1960 Custom
1957-1962 Fairlane
1958-1964 Galaxie
Box will also fit Mercury vehicles sharing the same platform.