Modern Power Steering Conversion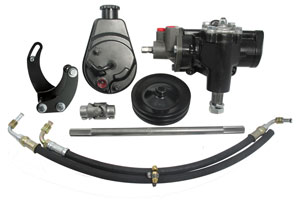 Borgeson now offers a modern integral power steering conversion for your 1958-1964 full size Chevy. The Borgeson conversion box is a remanufactured GM Delphi 600 integral power steering gearbox. The Delphi 600 represents the latest generation of integral power steering gearbox technology with true modern power steering feel, feedback and a quick 14:1 ratio.
Borgeson has remanufactured this box to bolt directly to the factory mounting location and to fit the stock Pitman arm. This box has been positioned to clear the larger four core radiators. The idler arm will need to be rotated to match the new angle of the steering box. A new universal joint and steering shaft will be required for connection to the stock column. Cars with factory power steering will require a drag link adapter or a manual centre link.
348/409 Applications will require use of a remote style power steering pump.
Manual Steering Box
Borgeson offers a direct replacement manual steering box 1958-1964 Full size Chevy Impala, Biscayne and Bel Air. These steering boxes are made in the USA and have a 3 year warranty.