Corvette Modern Power Steering Conversion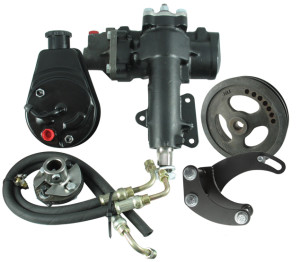 Borgeson offers a modern integral power steering conversion for your 1963-1982 Classic Corvette. The Borgeson conversion box is a re-manufactured GM Delphi 600 integral power steering gearbox.
The Delphi 600 represents the latest generation of integral power steering gearbox technology with true modern power steering feel, feedback and a sporty 12.7:1 ratio. Borgeson has re-manufactured this box to bolt directly to the factory mounting location and to fit the stock Pitman arm.
The factory column will need to be collapsed or shortened approximately 2.5" for clearance of the conversion box.
Cars with factory power steering will require drag link adapter #990002 or manual steering linkage, known as a drag link or relay rod.
Steering Column Modifications
1963-1966 – Cars you will need to trim approximately 2.5" off the splined steering column shaft for installation. The conversion box will then connect to the stock column with rag joint #055034 (Must leave 3/4" of spline to properly engage the rag joint).
1967-1982 – Cars have a factory collapsible steering column. Gently tap on the spline column shaft with a rubber mallet to collapse the shaft in on itself for the needed 2.5" of clearance. Conversion box will then connect to column with rag joint #055043.
Corvette Manual Steering Boxes
Borgeson re-manufactured Corvette steering boxes are assembled to the same demanding standards as our precision u-joints, far surpassing the OEM standards. Each box is chemically cleaned, inspected and refinished. All components are thoroughly inspected and replaced or re-machined as needed. Each is then carefully assembled, adjusted and inspected to exceed factory specifications. Replacement rag joint couplers available.